Breast Cancer Wellness Plan
About Breast Cancer
Nearly 270,000 new cases of breast cancer, most of which are women, are expected in 2018, with a total of nearly 42,000 deaths from the disease.[1]
Aside from skin cancer, it is the most commonly diagnosed cancer and the 2nd leading cause of cancer death among women.
Both the occurrence and death due to breast cancer have declined somewhat in recent years, largely due to a decline in hormone replacement therapy (HRT) [use among postmenopausal women.
Breast cancer is significantly influenced by dietary and lifestyle factors, in part evidenced by the nearly 3-fold higher occurrence in developed countries compared to underdeveloped ones.[2]
STAY ACTIVE Most studies suggest physical activity lowers breast cancer mortality.[3]
A number of risk factors are known to be associated with breast cancer occurrence, and the risk factors for younger women are not necessarily the same for women over 40.
Among the most well-established risk factors include:
a history of cancer in your family, particularly a first degree relative
having dense breast tissue
Risk factors for younger women also include:
current oral contraceptive use
not having a child until after age 30
having a prior benign breast biopsy

[4]
Other known risk factors include:
alcohol intake
smoking
higher amounts of dietary fat
high percentage of body fat
HEALTHY DIET Consume a vegetable rich, Mediterranean-style diet, emphasizing whole foods and cruciferous vegetables (broccoli, cauliflower, kale, brussel sprouts, etc.)[5]
Mammography - Screening by mammography is recommended by a number of cancer organizations. The U.S. Preventive Services Task Force recommends individualized, informed decision making about when to start mammography.
Cancer staging and classification - Staging is the process of finding out how much cancer there is in a person's body and where it's located. It's how the doctor learns the stage of a person's cancer. Physical exams, imaging procedures, laboratory tests, pathology reports, and surgical reports provide information to determine the stage of a cancer.
Genetic evaluation - Genetic evaluation may be recommended, as a number of genetic mutations have been associated with prognosis (outlook) and help to predict how beneficial different treatments may be.
Vitamin D level - Vitamin D levels have been found to be predictive of breast cancer risk and higher grade tumors.[6][7]
RELAX Practice mindfulness-based stress reduction, like breathing techniques, yoga, Pilates and meditation.[8]
DIM & Isothiocyanates
Isothiocyanates, which are abundant in cruciferous vegetables, like broccoli, cauliflower and cabbage, have shown anti-tumor activity and DIM (3,3'-Diindolylmethane), also found in these same vegetables, inhibits cancer cell proliferation in estrogen receptor positive and negative cells, and has shifted urinary estrogen metabolites to those with lower cancer risk among cancer survivors.[9],[10],[11]
Suggested dose: DIM 250 mg & Isothiocyanates 600 mcg per day
---
Vitamin D
Vitamin D levels are associated with both the risk of breast cancer, as well as the risk of dying from it. Suggested dose is that sufficient to raise vitamin D blood levels to >40 ng/mL, which may require 5000 IU per day or more.[6]
Suggested dose: May require 5,000 IU per day or more, depending on blood levels.
---
Resveratrol
Found in red wine and grapes, this antioxidant has been shown to influence the methylation of genes in women at high breast cancer risk, and to reduce the toxicity of radiation therapy.[19],[20]
Suggested dose: 100-200 mg per day
---
Quercetin with Bromelain
This antioxidant has multiple mechanisms by which it inhibits breast cancer proliferation and induces apoptosis (programmed cell death), and alters the metabolism of estrogen to less toxic compounds.[23],[24] It may be particularly beneficial for Her2/neu positive cancer.[25]
Suggested dose: 200-400 mg three times per day
---
Omega-3 Fatty Acids
Omega-3 fatty acids, DHA and EPA, have been shown to exert numerous anti-proliferative effects on breast cancer cells, as well as reduced inflammation and fatigue among breast cancer survivors.[7] DHA/EPA have also demonstrated protective effects when combined with several chemotherapeutic agents.[8] Additionally, GLA, another Omega-3 helps to maintain balance in the fatty acids.
Suggested dose: 2-3 grams combined EPA & DHA per day, with at least 1-2 grams of a GLA source
---
Scutellaria Barbata
Scutellaria Barbata is an herb that grows in Korea and southern China. An extract of this plant has been shown to be safe in a clinical trial of women with advanced breast cancer, and to inhibit cell proliferation and induce cancer cell death.[12],[13]
Suggested dose: 1-2 grams per day
---
Curcumin Phytosome
The active extract from the spice turmeric, curcumin displays an ability to inhibit many tumor cell types, and also may sensitize cancer cells to other therapies.[14] Recently it was combined with docetaxel, a commonly used chemotherapy medication, in patients with advanced and metastatic breast cancer with encouraging results.[15] Doses range depending on type of curcumin, yet Meriva® and Longvida® have been shown to be much more efficiently absorbed forms.[16]
Suggested dose: 1-3 gram per day
---
Green Tea Extract
Catechins, antioxidants found in green tea, particularly EGCG (epigallocatechin-3-gallate), are known to have numerous anti-metastatic and anti-proliferative properties. Also, clinical trials suggest EGCG may enhance other therapies.[17],[18]
Suggested dose: 1 gram EGCG and mixed catechins per day
---
Grape seed extract and/or Pycnogenol
Grape seed extract has been shown to inhibit breast cell carcinogenesis in response to several common toxins, and to inhibit the enzyme aromatase, a factor in hormone-sensitive cancers.[26],[27]
Suggested dose: 100-200 mg per day
---
Melatonin
A hormone, supplemental melatonin intake has improved survival in a number of cancers, and may enhance conventional therapy effectiveness.[28]
Suggested dose: At least 3 mg at night, preferably time-released
---
Vitamin E
Various components of vitamin E have shown anti-cancer properties. Although alpha-tocopherol is often used in clinical trials, when given alone it may deplete other important components of vitamin E.[29],[30]
Suggested dose: 200-400 IU per day of mixed tocopherols & tocotrienols
---
Vitamin K2
Vitamin K-2 (MK-7) has the longest half-life, meaning it is the most stable, of all forms of vitamin K. Shown to improve bone and cardiovascular health, higher intakes of this form have also been associated with reduced cancer incidence & fatality, and may improve effectiveness of other therapies.[31],[32],[33]
Suggested dose: 100 mcg vitamin K-2 (MK-7) per day
Optimal Protein Choices:
Organic/hormone-free chicken
Turkey
Grass-fed beef
Cold water fish (salmon, cod, sardines, pacific flounder/sole, butterfish, and trout. Choose wild ocean fish over farm raised fish)
Organic eggs
Organic legumes (acceptable as a vegetarian protein)
Optimal Fat Choices:
Flaxseed
Walnut oil
Extra virgin olive oil
Hempseed oil
Avocado
Raw, sprouted, or dry roasted nutsand seeds
Organic grass-fed butter
Ghee
Coconut oil for higher heat cooking
MCT Oil
Vegetable Choices:
You can eat an unlimited amount of vegetables from the list below:
Salad greens
Cruciferous vegetables (arugula, bok choy, broccoli, brussels sprouts, cabbage, cauliflower, collard greens)
Carrots
Cucumbers
Sweet peppers
Raw sauerkraut
Limit starchy veggies such as potatoes
Fruit Choices:
Low Glycemic Index
Organic Berries
(blueberries, raspberries,
strawberries)
Moderate Glycemic Index
(fresh or frozen)
Cherries
Pears
Apricots
Melons
Plums
Oranges
Peaches
Grapefruit
Apples
Prunes
Kiwi
Nectarines
Tangerine
Beverages:
Herbal teas
Naturally decaffeinated green tea
Spring water
Vegetable juices
Coconut water
Condiments:
Lemon
Lime
Cayenne pepper
Sea salt
Garlic
Fresh herbs and spices
Flax/olive oil & raw apple cider vinegar for dressings
Snacks:
Nuts (raw are best)
Hummus
Raw or steamed vegetables
Low glycemic fruit
Almond butter with apple slices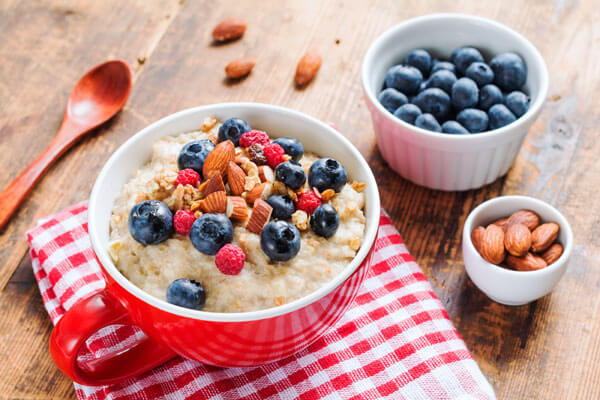 Breakfast Ideas
Everyday THRIVE Shake  view recipes
2 to 3 hard boiled eggs with 1/2 cup grapefruit
2/3 cup hot quinoa cereal or gluten free steel cut oats, 1 scoop protein powder, 1/2 cup berries and a small handful of walnuts or pecans
Veggie Scramble: 2-3 eggs scrambled with onion, garlic and broccoli
Sauté veggies and add leftover salmon. Stir to heat up and add condiments/spices
2 to 3 poached eggs over a bed of fresh spinach and sliced tomato
2 to 3 slices turkey bacon with leftover veggies or sliced tomato and avocado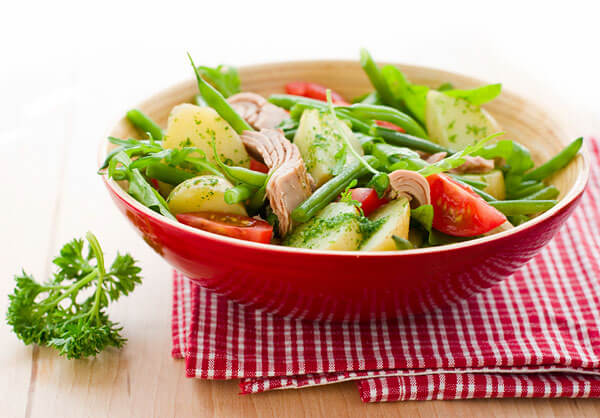 Lunch and Dinner Ideas (choose one for each meal)
Option 1
Green salad with sprouts, extra virgin olive oil, basil, & squeezed lemon or lime
Baked cod topped with avocado salsa: Chop: 1 avocado, 1 tomato, 1/2 cup red onion, add 1/2 cup capers (drained), 1/4 cup fresh cilantro, 1/2 tsp. cumin, 1/2 tsp. cayenne and 2 tablespoons lime juice.
Option 2
1 cup black bean soup
Chopped cabbage with chicken and apple cider vinegar
Option 3 
Organic vegetable broth
Shrimp & vegetables: Sauté fresh shrimp and chopped garlic in a pan with coconut oil. Roughly chop 5-10 different vegetables and lightly stir-fry with freshly grated ginger & 1⁄2 cup cooked buckwheat noodles. Lightly drizzle with sesame oil.
Option 4
Baby greens salad with extra virgin olive oil & squeezed lemon or lime
Grilled buffalo burger on a baked or grilled portabella mushroom
Mixed roasted vegetables: Roast combination of cauliflower, broccoli, Brussels sprouts
Option 5
Beet greens with extra virgin olive oil & squeezed lemon or lime
Wild salmon, steamed or grilled
Steamed beets (steam 20-30 minutes or until soft, then peel off skin)
Option 6
Mixed greens salad with extra virgin olive oil or lemon flavored flax seed oil
Broiled chicken with peppers: Roughly chop green, yellow & red peppers, onion and mushrooms; toss lightly with extra virgin olive oil & chopped garlic. Serve with 1/2 cup wild brown rice.
Option 7
Steamed veggies (cauliflower, broccoli, carrots). Drizzle with olive oil and lemon after steamed.
Baked halibut topped with tomato pesto
Option 8
Roasted green beans
Grilled turkey breast with sage
1/2 baked sweet potato
Option 9 
Baked sole with lemon
1/2 cup baked acorn or butternut squash
Steamed green & yellow beans, topped with flax oil
Option 10
Steamed kale
Grilled chicken with garlic pesto: Mince 2 cloves of garlic and add to 1/8 cup extra virgin olive oil. Add 1/8 cup finely chopped fresh basil. Spread garlic-basil mixture on chicken breasts and allow to marinate while preparing the rest of dinner. Grill.
Option 11 
1 cup hearty vegetable soup
Grilled halibut
Steamed artichoke with lemon
Option 12
3 to 4 oz chicken salad (made with olive oil instead of mayonnaise) wrapped in a large lettuce leaf. Add grated carrots, avocado, or other veggie of your choice.
Everyday THRIVE Shake Recipes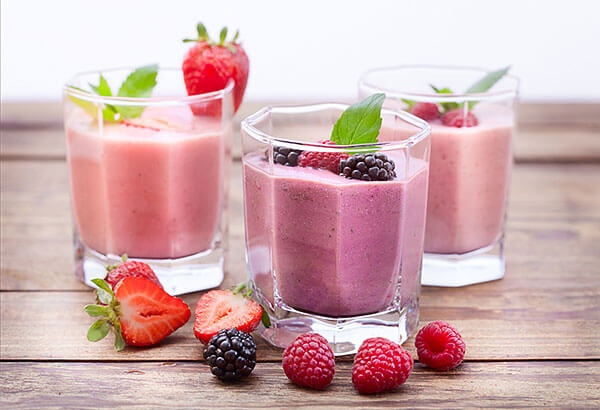 Berry Everyday THRIVE Shake  
In a blender, combine the following ingredients:
8-12 oz. of unsweetened almond or coconut milk
1 scoop of Everyday THRIVE Shake
1/4 cup of frozen berries, preferably organic
1 tablespoon of ground flax or chia seeds
1 heaping teaspoon of natural almond butter (optional)
Ice and fresh mint (optional)
ChocoMaca Everyday THRIVE Shake
In a blender, combine the following ingredients:
8-12 oz. of unsweetened almond or coconut milk
1 scoop of Everyday THRIVE Shake
1/2 to 1 tablespoon of maca powder
1 tablespoon of raw cacao powder or cocoa powder
1 tablespoon of ground flax or chia seeds
Ice and fresh mint (optional)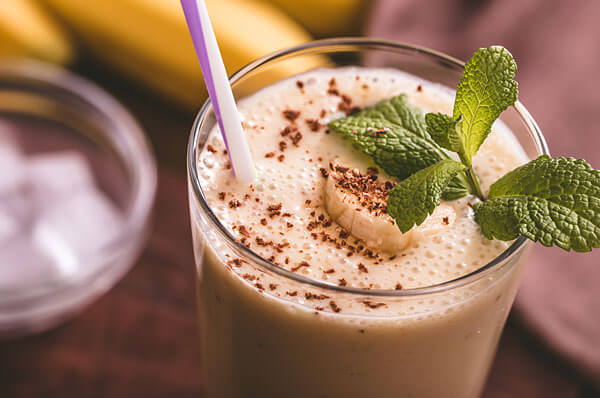 Maintain a healthy weight[34]
Most studies suggest physical activity lowers breast cancer mortality[35]
Avoid alcohol and smoking
Consume a vegetable rich, Mediterranean-style diet, emphasizing whole foods and cruciferous vegetables (broccoli, cauliflower, kale, brussel sprouts, etc.)[36]
Practice mindfulness-based stress reduction, like breathing techniques, yoga, Pilates and meditation[37]
Important Nutrient/Drug Interactions
Given that many nutritional interventions have the potential to both increase the effectiveness of conventional treatments and possibly interfere with their effects, combined use should always be supervised.  For example, NAC may alleviate the adverse cardiovascular effects of some chemotherapeutic agents, but may theoretically interfere with those that require glutathione depletion. DHEA may also interfere with the effectiveness of chemotherapy, particularly for estrogen receptor positive cancers.[38] Doses higher than 50mcg of vitamin K2 (MK-7) may interfere with some anticoagulant medications.[39]
[1] Chen HS, Portier K, Ghosh K, et al. Predicting US- and state-level cancer counts for the current calendar year: Part I: evaluation of temporal projection methods for mortality. Cancer. 2012;118:1091-1099.
[2] Youlden DR, Cramb SM, Dunn NA, et al. The descriptive epidemiology of female breast cancer: an international comparison of screening, incidence, survival and mortality. Cancer Epidemiol. 2012 Jun;36(3):237-48.
[3] Loprinzi PD, Cardinal BJ, Winters-Stone K, et al. Physical activity and the risk of breast cancer 1recurrence: a literature review. Oncol Nurs Forum. 2012 May 1;39(3):269-74
[4] Nelson HD, Zakher B et al. Risk factors for breast cancer for women aged 40 to 49 years: a systematic review and meta-analysis. Ann Intern Med. 2012 May 1;156(9):635-48.
[5] Voevodina O, Billich C, Arand B, et al. Association of Mediterranean diet, dietary supplements and alcohol consumption with breast density among women in South Germany: a cross-sectional study. BMC Public Health. 2013 Mar 7;13:203.
[6] Goodwin PJ, Ennis M, Pritchard KI, et al. Prognostic effects of 25-hydroxyvitamin D levels in early breast cancer. J Clin Oncol. 2009 Aug 10;27(23):3757-63.
[7] Vrieling A, Hein R, Abbas S, et al. Serum 25-hydroxyvitamin D and postmenopausal breast cancer survival: a prospective patient cohort study. Breast Cancer Res. 2011 Jul 26;13(4):R74.
[8] Carlson LE, Speca M, Patel KD, et al. Mindfulness-based stress reduction in relation to quality of life, mood, symptoms of stress and levels of cortisol, dehydroepiandrosterone sulfate (DHEAS) and melatonin in breast and prostate cancer outpatients. Psychoneuroendocrinology. 2004 May;29(4):448-74.
[9] Garland CF, French CB, Baggerly LL, et al. Vitamin D supplement doses and serum 25-hydroxyvitamin D in the range associated with cancer prevention. Anticancer Res. 2011 Feb;31(2):607-11.
[10] Alfano CM, Imayama I, Neuhouser ML, et al. Fatigue, inflammation, and ω-3 and ω-6 fatty acid intake among breast cancer survivors. J Clin Oncol. 2012 Apr 20;30(12):1280-7.
[11] Ghoreishi Z, Esfahani A, Djazayeri A, et al. Omega-3 fatty acids are protective against paclitaxel-induced peripheral neuropathy: a randomized double-blind placebo controlled trial. BMC Cancer. 2012 Aug 15;12:355.
[12] Xu Y, Qian SY1. Anti-cancer activities of ω-6 polyunsaturated fatty acids. Biomed J. 2014 May-Jun;37(3):112-9.
[13] Biomed J. 2014 May-Jun;37(3):112-9. Gamma linolenic acid with tamoxifen as primary therapy in breast cancer. Int J Cancer. 2000 Mar 1;85(5):643-8.
[14] Gupta P, Srivastava SK. Antitumor activity of phenethyl isothiocyanate in HER2-positive breast cancer models. BMC Med. 2012 Jul 24;10:80.
[15] Jin Y. 3,3′-Diindolylmethane inhibits breast cancer cell growth via miR-21-mediated Cdc25A degradation. Mol Cell Biochem. 2011 Dec;358(1-2):345-54.
[16] Dalessandri KM, Firestone GL, et al. Pilot study: effect of 3,3′-diindolylmethane supplements on urinary hormone metabolites in postmenopausal women with a history of early-stage breast cancer. Nutr Cancer. 2004;50(2):161-7.
[17] Perez AT, Arun B, Tripathy D, et al. A phase 1B dose escalation trial of Scutellaria barbata (BZL101) for patients with metastatic breast cancer. Breast Cancer Res Treat. 2010 Feb;120(1):111-8.
[18] Klawitter J, Klawitter J, Gurshtein J, et al. Bezielle (BZL101)-induced oxidative stress damage followed by redistribution of metabolic fluxes in breast cancer cells: a combined proteomic and metabolomic study. Int J Cancer. 2011 Dec 15;129(12):2945-57.
[19] Royt M, Mukherjee S, Sarkar R, et al. Curcumin sensitizes chemotherapeutic drugs via modulation of PKC, telomerase, NF-kappaB and HDAC in breast cancer. Ther Deliv. 2011 Oct;2(10):1275-93.
[20] Bayet-Robert M, Kwiatkowski F, Leheurteur M, et al. Phase I dose escalation trial of docetaxel plus curcumin in patients with advanced and metastatic breast cancer. Cancer Biol Ther. 2010 Jan;9(1):8-14. Epub 2010 Jan 21.
[21] Marczylo TH, Verschoyle RD, Cooke DN, et al. Comparison of systemic availability of curcumin with that of curcumin formulated with phosphatidylcholine. Cancer Chemother Pharmacol. 2007 Jul;60(2):171-7.
[22] DiSilvestro RA1, Joseph E, Zhao S, Bomser J. Diverse effects of a low dose supplement of lipidated curcumin in healthy middle aged people. Nutr J. 2012 Sep 26;11:79. doi: 10.1186/1475-2891-11-79.
[23] Zhang G, Wang Y, Zhang Y, et al. Anti-cancer activities of tea epigallocatechin-3-gallate in breast cancer patients under radiotherapy. Curr Mol Med. 2012 Feb;12(2):163-76.
[24] Eddy SF, Kane SE, Sonenshein GE. Trastuzumab-resistant HER2-driven breast cancer cells are sensitive to epigallocatechin-3 gallate. Cancer Res. 2007 Oct 1;67(19):9018-23.
[25] Zhu W, Qin W, Zhang K, et al. Trans-resveratrol alters mammary promoter hypermethylation in women at increased risk for breast cancer. Nutr Cancer. 2012 Apr;64(3):393-400.
[26] Di Franco R, Calvanese M, Murino P, et al. Skin toxicity from external beam radiation therapy in breast cancer patients: protective effects of Resveratrol, Lycopene, Vitamin C and anthocianin (Ixor®). Radiat Oncol. 2012 Jan 30;7:12.
[27] Kim S, Kim SH, Hur SM, et al. Silibinin prevents TPA-induced MMP-9 expression by down-regulation of COX-2 in human breast cancer cells. J Ethnopharmacol. 2009 Nov 12;126(2):252-7.
[28] Tyagi AK, Agarwal C, Chan DC, et al. Synergistic anti-cancer effects of silibinin with conventional cytotoxic agents doxorubicin, cisplatin and carboplatin against human breast carcinoma MCF-7 and MDA-MB468 cells. Oncol Rep. 2004 Feb;11(2):493-9.
[29] Duo J, Ying GG, Wang GW, et al. Quercetin inhibits human breast cancer cell proliferation and induces apoptosis via Bcl-2 and Bax regulation. Mol Med Rep. 2012 Jun;5(6):1453-6.
[30] Mense SM, Chhabra J, Bhat HK. Preferential induction of cytochrome P450 1A1 over cytochrome P450 1B1 in human breast epithelial cells following exposure to quercetin. J Steroid Biochem Mol Biol. 2008 May;110(1-2):157-62.
[31] Seo HS, Choi HS, Choi HS, et al. Phytoestrogens induce apoptosis via extrinsic pathway, inhibiting nuclear factor-kappaB signaling in HER2-overexpressing breast cancer cells. Anticancer Res. 2011 Oct;31(10):3301-13.
[32] Song X, Siriwardhana N, et al. Grape seed proanthocyanidin suppression of breast cell carcinogenesis induced by chronic exposure to combined 4-(methylnitrosamino)-1-(3-pyridyl)-1-butanone and benzo[a]pyrene. Mol Carcinog. 2010 May;49(5):450-63.
[33] Kijima I, Phung S, Hur G, et al. Grape seed extract is an aromatase inhibitor and a suppressor of aromatase expression. Cancer Res. 2006 Jun 1;66(11):5960-7.
[34] Cutando A, López-Valverde A, et al. Role of melatonin in cancer treatment. Anticancer Res. 2012 Jul;32(7):2747-53.
[35] Ju J, Picinich SC, Yang Z, et al. Cancer-preventive activities of tocopherols and tocotrienols. Carcinogenesis. 2010 Apr;31(4):533-42.
[36] Yang CS, Suh N, Kong AN. Does vitamin E prevent or promote cancer? Cancer Prev Res (Phila). 2012 May;5(5):701-5.
[37] Nimptsch K, Rohrmann S, Kaaks R, et al. Dietary vitamin K intake in relation to cancer incidence and mortality: results from the Heidelberg cohort of the European Prospective Investigation into Cancer and Nutrition (EPIC-Heidelberg). Am J Clin Nutr. 2010 May;91(5):1348-58.
[38] Nimptsch K, Rohrmann S, Linseisen J. Dietary intake of vitamin K and risk of prostate cancer in the Heidelberg cohort of the European Prospective Investigation into Cancer and Nutrition (EPIC-Heidelberg). Am J Clin Nutr. 2008 Apr;87(4):985-92.
[39] Zhang H, Ozaki I, Hamajima H, et al. Vitamin K2 augments 5-fluorouracil-induced growth inhibition of human hepatocellular carcinoma cells by inhibiting NF-κB activation. Oncol Rep. 2011 Jan;25(1):159-66.