Macular Degeneration Wellness Plan
Macular Degeneration Wellness Plan
Keys to Optimal Health
Stay fit, exercisie regularly
Wear protective/magnifying eye gear
Quit smoking
Eat an anti-inflammatory diet containing phytonutrients found in fruits, vegetables, and other whole foods
Macular Degeneration Supplement Protocol
This list contains the nutritional supplements that have been shown to have the greatest evidence-based benefit.
Focus on the solution, not the problem
Don't stress about things you can't control
Wait 10 seconds before you react to a stressful situation
Use deep breathing to collect your thoughts
HEALTHY DIET - Support your immune system by consuming a vegetable rich, Mediterranean-style diet, emphasizing whole foods, and cruciferous vegetables (broccoli, cauliflower, kale, brussel sprouts, etc.)
Be physically active every day, with a combination of aerobic and resistance exercise.
Eat meals regularly to keep your blood sugar stable, emphasizing whole foods rich in fiber, including vegetables, low-sugar fruits, legumes, and whole grains.
Avoid refined foods, dairy products, and those with a high glycemic load.
Eat organically when possible and avoid exposure to persistent organic pollutants, both from dietary sources, as well as direct application to yards/gardens, etc.
Manage your stress: Practice yoga, meditation, Tai Chi, or Qi Gong 15-30 minutes per day.
Get adequate sleep. Using a fitness tracker can help inform you of your sleep patterns and quality.
RELAX Practice mindfulness-based stress reduction, like breathing techniques, yoga, Pilates and meditation.[8]
Clinical Strength Vision Support
Clinical Strength Vision Support has been formulated to provide comprehensive nutritional protection for the eyes. Each serving has 10mg of available lutein, a critical pigment of the macula, lens, and other ocular tissues. Lutein is a powerful antioxidant related to beta-carotene that defends the eye from the ravages of sunlight. It also includes green tea extract, alpha lipoic acid and grape seed extract to maximize its antioxidant potential.*
Suggested dose: Take 3 capsules daily with food, preferably in divided doses.
---
Pure Omega-3
The natural fish oil concentrate used in this softgel is manufactured under strict quality control standards. It is tested to be free of potentially harmful levels of contaminants (i.e. mercury, heavy metals, PCB's, dioxins, and other contaminants). Those who experience nausea or reflux from other fish oils should find this enteric-coated, odor-controlled softgel easier to tolerate.
Suggested dose: Take 1 softgel 1 to 2 times daily with food.
---
Lutein & Zeaxanthin
Lutein and Zeaxanthin are free radical scavenging carotenoid pigments often found together in vegetables.* In the body, they are deposited in the macula, a specialized area of the eye that is responsible for central vision.* Acting as primary filters of highenergy blue light, Lutein and Zeaxanthin help to promote normal visual health by protecting the eye against oxidative stress.* This product is formulated to support normal recovery from bright light exposure and the maintenance of healthy contrast sensitivity.*
Suggested dose: Take 2 capsules daily.
---
Optimal Protein Choices:
Organic/hormone-free chicken
Turkey
Grass-fed beef
Cold water fish (salmon, cod, sardines, pacific flounder/sole, butterfish, and trout. Choose wild ocean fish over farm raised fish)
Organic eggs
Organic legumes (acceptable as a vegetarian protein)
Optimal Fat Choices:
Flaxseed
Walnut oil
Extra virgin olive oil
Hempseed oil
Avocado
Raw, sprouted, or dry roasted nutsand seeds
Organic grass-fed butter
Ghee
Coconut oil for higher heat cooking
MCT Oil
Vegetable Choices:
You can eat an unlimited amount of vegetables from the list below:
Salad greens
Cruciferous vegetables (arugula, bok choy, broccoli, brussels sprouts, cabbage, cauliflower, collard greens)
Carrots
Cucumbers
Sweet peppers
Raw sauerkraut
Limit starchy veggies such as potatoes
Fruit Choices:
Low Glycemic Index
Organic Berries
(blueberries, raspberries,
strawberries)
Moderate Glycemic Index
(fresh or frozen)
Cherries
Pears
Apricots
Melons
Plums
Oranges
Peaches
Grapefruit
Apples
Prunes
Kiwi
Nectarines
Tangerine
Beverages:
Herbal teas
Naturally decaffeinated green tea
Spring water
Vegetable juices
Coconut water
Condiments:
Lemon
Lime
Cayenne pepper
Sea salt
Garlic
Fresh herbs and spices
Flax/olive oil & raw apple cider vinegar for dressings
Snacks:
Nuts (raw are best)
Hummus
Raw or steamed vegetables
Low glycemic fruit
Almond butter with apple slices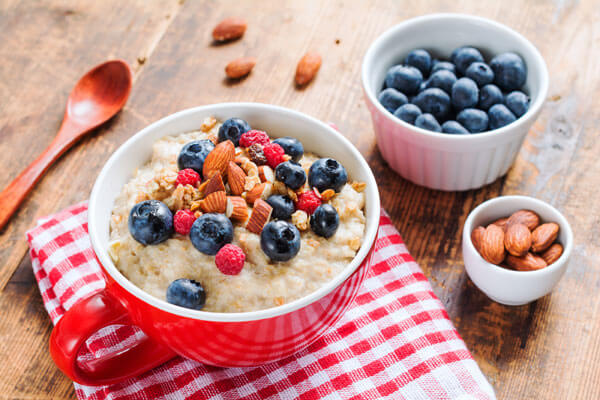 Breakfast Ideas
Everyday THRIVE Shake  view recipes
2 to 3 hard boiled eggs with 1/2 cup grapefruit
2/3 cup hot quinoa cereal or gluten free steel cut oats, 1 scoop protein powder, 1/2 cup berries and a small handful of walnuts or pecans
Veggie Scramble: 2-3 eggs scrambled with onion, garlic and broccoli
Sauté veggies and add leftover salmon. Stir to heat up and add condiments/spices
2 to 3 poached eggs over a bed of fresh spinach and sliced tomato
2 to 3 slices turkey bacon with leftover veggies or sliced tomato and avocado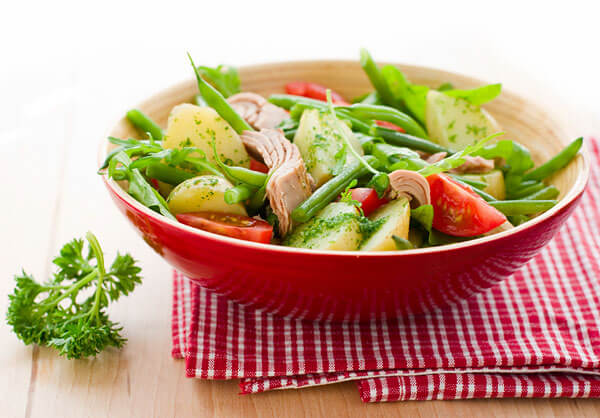 Lunch and Dinner Ideas (choose one for each meal)
Option 1
Green salad with sprouts, extra virgin olive oil, basil, & squeezed lemon or lime
Baked cod topped with avocado salsa: Chop: 1 avocado, 1 tomato, 1/2 cup red onion, add 1/2 cup capers (drained), 1/4 cup fresh cilantro, 1/2 tsp. cumin, 1/2 tsp. cayenne and 2 tablespoons lime juice.
Option 2
1 cup black bean soup
Chopped cabbage with chicken and apple cider vinegar
Option 3 
Organic vegetable broth
Shrimp & vegetables: Sauté fresh shrimp and chopped garlic in a pan with coconut oil. Roughly chop 5-10 different vegetables and lightly stir-fry with freshly grated ginger & 1⁄2 cup cooked buckwheat noodles. Lightly drizzle with sesame oil.
Option 4
Baby greens salad with extra virgin olive oil & squeezed lemon or lime
Grilled buffalo burger on a baked or grilled portabella mushroom
Mixed roasted vegetables: Roast combination of cauliflower, broccoli, Brussels sprouts
Option 5
Beet greens with extra virgin olive oil & squeezed lemon or lime
Wild salmon, steamed or grilled
Steamed beets (steam 20-30 minutes or until soft, then peel off skin)
Option 6
Mixed greens salad with extra virgin olive oil or lemon flavored flax seed oil
Broiled chicken with peppers: Roughly chop green, yellow & red peppers, onion and mushrooms; toss lightly with extra virgin olive oil & chopped garlic. Serve with 1/2 cup wild brown rice.
Option 7
Steamed veggies (cauliflower, broccoli, carrots). Drizzle with olive oil and lemon after steamed.
Baked halibut topped with tomato pesto
Option 8
Roasted green beans
Grilled turkey breast with sage
1/2 baked sweet potato
Option 9 
Baked sole with lemon
1/2 cup baked acorn or butternut squash
Steamed green & yellow beans, topped with flax oil
Option 10
Steamed kale
Grilled chicken with garlic pesto: Mince 2 cloves of garlic and add to 1/8 cup extra virgin olive oil. Add 1/8 cup finely chopped fresh basil. Spread garlic-basil mixture on chicken breasts and allow to marinate while preparing the rest of dinner. Grill.
Option 11 
1 cup hearty vegetable soup
Grilled halibut
Steamed artichoke with lemon
Option 12
3 to 4 oz chicken salad (made with olive oil instead of mayonnaise) wrapped in a large lettuce leaf. Add grated carrots, avocado, or other veggie of your choice.
Everyday THRIVE Shake Recipes
Berry Everyday THRIVE Shake  
In a blender, combine the following ingredients:
8-12 oz. of unsweetened almond or coconut milk
1 scoop of Everyday THRIVE Shake
1/4 cup of frozen berries, preferably organic
1 tablespoon of ground flax or chia seeds
1 heaping teaspoon of natural almond butter (optional)
Ice and fresh mint (optional)
ChocoMaca Everyday THRIVE Shake
In a blender, combine the following ingredients:
8-12 oz. of unsweetened almond or coconut milk
1 scoop of Everyday THRIVE Shake
1/2 to 1 tablespoon of maca powder
1 tablespoon of raw cacao powder or cocoa powder
1 tablespoon of ground flax or chia seeds
Ice and fresh mint (optional)